---
Added December 5 Venomous One "Fantasies for Fucking"
BBW with HUGE tits is in the mood for rimming and cum!
"Fantasies for Fucking" - The voluptuous Venomous One spends 8 hours a day, 5 days a week, working behind a computer. What her officemates don't know is that she spends most of this time fantasizing about being dancer at a BBW strip club. She imagines the way the men would look at her as she dances in front of them. The way they would stroke their cocks in excitement as she licked her gigantic nipples. Seated behind her desk, she slips down her top and begins rubbing and sucking on her gargantuan knockers. Now, completely lost in her fantasies, she visualizes a man smacking her massive mammaries and jiggling her huge belly. She also thinks about how much she loves sucking cock, how she loves feeling it get hard in her mouth. She envisions him grabbing her ponytail as she licks his balls and swallows his shaft. This buxom babe also buries her face in his asshole, before rubbing her boobs on his nuts and titty fucking him. In reality, she has her legs spread wide on her desk, fingering her sweet pussy and picturing swallowing a hot, sticky load of cum. But this hungry harlot isn't satisfied until she sucks out every last drop, and she even goes back to work with jizz all over pretty face.
---
Added November 28 Anya "Rooftop Chubby"
Extra horny Anya is looking for someone who can enjoy her XL body!
Rodney is happy to suck on her tits and plow her pussy!
He blows his load in a condom and she sucks and swallows it all down!
"Rooftop Chubby" - Rodney gets a call that there's a horny fat girl on the roof of his building and as soon as he can, he races up to see for himself. There he finds Anya, a very big girl indeed, enjoying the view on a lovely day. He introduces himself and she confesses that she's the horny girl he's heard about. She invites herself over to his place and shows him just how horny she is. She whips out her 38 DDD tits and then chows down on his cock. He fucks her hard until he cums in a condom, then Anya sucks and swallows the goo straight from the condom.
---
Added November 21 Bunny De La Cruz "Co-Sign for Cum"
Hot BBW Bunny is in the mood for cock and cock she gets!
She gets a belly button fucking and a titty fuck too!
Rodney pumps her pudgy pussy till he blasts her pretty face!
"Co-Sign for Cum" - Busty BBW beauty Bunny De La Cruz really needs her Step Rodney to co-sign a lease on a new place. He doesn't want to. But Bunny's big huge rack is calling him. In an effort to convince him to help, Bunny thrusts his face into her bosom. As she grabs his swelling cock, she tells him she can help him out if he'll help her out. It doesn't take long before Rodney succumbs. Bunny starts sucking his cock and licking his balls. She strips down and sticks her big ass up in the air. Rodney plows her hard from behind and her curvaceous meaty hips jiggle all over! He bangs her in all kinds of positions, tossing her around like a big rag doll. Finally, he spews a huge wad of spunk all over her pretty face.
---
Added November 14 Zoey Savage "Sucking Cock Cures Writer's Block"
Sucking cock cures writer's block for this hot and pudgy slut.
She gets even more creative with cum all over her face.
"Sucking Cock Cures Writer's Block" - Busty cutie Zoey is busy writing away at the cafe but Rodney's is just about to close up shop. She begs him for just a few more minutes so she can finish her work. When he says he has plans and has to leave, she offers him a blow job. Well who could resist? Rodney gives her a few minutes but fondles her huge tits while she works. There's only so much she can do while her big boobs are being felt up so she drops to her knees and starts sucking Rodney's cock. She gives him one enthusiastic blow job and a rim job. Before long, he's got his dick deep in her pudgy pussy. He bangs her hard all over the cafe in all kinds of positions. He even humps her cavernous belly button. She sucks his cock some more before he spews a huge stream of spunk all over her face.
---
Added November 7 Marilyn Mayson "Dear Johnson"
Dirty voluptuous vixen Marilyn Mayson gets her enormous boobs sucked
and her hot belly worshipped. She smothers Rodney's face with her big ass and
sucks his dick. They fuck hot and heavy till he shoots his thick load for her to swallow!
"Dear Johnson" - Voluptuous vixen Marilyn Mayson needs to rest up because she had a guy over for sex! Step Rodney finds the note he left and now she's in big trouble. Rodney has to tattle tale, that she let a boy stay overnight and fuck her brains out. Marilyn begs her step not to tell on her. She tries to change his mind first with a back massage then with her giant boobs in his face. She finally convinces him to rip up the note with a nasty blowjob. And just to make sure he won't change his mind again, she lets him fuck her too. Marilyn's big tits and ass jiggle and shake as he plows her hard. She sits her big ass down on his face smothering him with her massive pussy. Finally, he fills her hungry mouth with a huge load of spunk.
HOT MARILYN MAYSON TRAILER JOIN NOW
---
Added October 31 Dimond Jewels "Too Many Steps"
Chunky muffin top gets a full-throttle Rodney Blast atop her cute head!
"Too Many Steps" - Rodney's staying on the 15th floor of a hotel with a broken elevator. As he descends the stairs, he finds a very tired girl whose feet are killing her from climbing all those flights in high heels. He offers to rub her feet. He takes a chance and rubs her thighs. She gets so turned on and decides to rub his cock. She does it so good that soon his semen is climbing up his shaft and and spilling onto her face. - Dimond Jewels & Rodney
---
Added October 24 Klaudia Kelly "Can't Get Goo Outta My Mind"
Hot BBW bad girl titty fucks and deepthroats Rodney. She smothers his face with her hot
ass and chunky pussy till Rodney returns the favor with cum for her dirty mouth!
"Can't Get Goo Outta My Mind" - Rodney confesses to his curvy step Klaudia Kelly that things haven't been well sexually between him and his wife. Ever since he found an old DVD of his wife having sex with her previous husband, he can't get that image out of his mind when they try to have sex. They even went to a doctor who suggested Rodney have sex with another woman, with wifey's approval of course, just to clear the mental block from his head. But they don't know anyone willing to do that for him. Klaudia's got a much better option. What if she takes care of him? Rodney does like big curvy women after all. Though a bit reluctant at first, he finally lets Klaudia suck his cock. Then she whips out those big boobs he likes so much. He fucks her face and her giant tits before plunging his prick in her pudgy pussy. He bangs her hard making her big belly shake. Before long she plants her huge ass right on top of Rodney's face smothering him between her massive thighs. After some more banging and cock sucking, Rodney spews a massive load of jizz onto her tongue. - Klaudia Kelly & Rodney
---
Added October 17 Naughty Nikki "The New Bra"
Rodney gets tit slapped in the face with huge 38DD boobs!
Then chunky bimbo gets her face slapped with a huge Rodney Blast!
"The New Bra" - Rodney has designed a new bra for big-busted women. Nikki and her 38 DD boobs come over to model it for him. It's pretty see-through and Nikki is shy, but she soon warms up to the idea as Rodney whips out his cock and starts jerking off. They are both turned on and soon Nikki gets on her knees and takes his cock down her throat. She gives him a thorough sucking, then smiles as he unloads his balls all over her round face, giving Nikki a Monster Facial! - Naughty Nikki & Rodney
---
Added October 10 Hailee "Hailee Unleashed"
Extra thick and plump cutie goes all out sucking Rodney's
dick and gets her pussy pounded and a spunk splash to the face!
"Hailee Unleashed" - Hailee is a big girl who wants to try her hand at modeling, but she won't do nude or adult work. She changes into some lingerie and soon Rodney has her topless. She's nervous but she says she needs the money. Rodney tells her that there is a lot of money in S&M modeling and soon he has her on all fours, wearing a collar. She looks so great that Rodney has to masturbate. When she catches him, she's upset at first, but the sight of that big dick is enticing and Hailee takes that cock into her mouth and starts to suck. The next thing you know, Rodney and Hailee are sucking and fucking until it's time for him to blast her face with his goo. - Hailee & Rodney
---
Added October 3 Drea "Let's Goo Lunch"
Chunky office babe is hungry for cock and some
gooey protein which she gobbles and swallows!
"Let's Goo Lunch" - Ever since she accidentally saw him in the boys bathroom, Chubby babe Drea can't stop fantasizing about her boss Rodney's huge, uncut cock. She tells her friend about her daydream where Rodney asks her what she wants for lunch and she says, "What I really want is your cock." As she tells her story, her dream plays itself out. Soon she's on her knees chowing down on Rodney's big meat stick. She takes her clothes off revealing her ample bosom and curvy hips. Rodney pinches her big tits while she takes his balls in her mouth. She finishes her "lunch" with a huge dollop of sweet Rodney cream down her throat. - Drea & Rodney
---
Added September 26 Monica Blewinsky "Nothing Like the Real Thing"
BBW MILF has been around the block! She knows
how to give a drooly blowjob, feverishly lick ass
and get her asshole rammed! And boy does she!
"Nothing Like the Real Thing" - Monica is a big girl with a big appetite for sex. She's always sucking on a dildo when there isn't a man around. When Rodney sees her, he tells her it seems like a waste of good sucking to see her work that dildo. He whips out his cock and she instantly takes it in her wet mouth. Now that's more like it. She gives him some good, sloppy head with lots of drool. Then she gets undressed and, while sucking his cock, sticks her dildo in her pussy. But even that's not enough to satisfy her, so Rodney has to put a dildo in her ass as well. But again, there's nothing like a real cock, so Rodney fucks Monica in her ass, then blasts his hot goo all over her face. - Monica Blewinsky & Rodney
---
Added September 19 Aurora "Double D Discharge"
BBW cutie uses her BREAST assets to keep her job!
She also happens to deepthroat dick and loves to
lap up cum. Does Rodney let her keep her job?
"Double D Discharge" - Looks like Rodney's going to have to fire his busty stepAurora from the company. But she just got a new apartment and doesn't want to lose her job. Aurora knows that her Rodney misses his ex-wife's big boobs, so maybe she can use her own massive assets to convince him to let her stay. She whips out her huge tits right there in the office. Rodney's shocked but Aurora grabs his hand, inviting him to fondle her massive mammaries. He's even more shocked when she pulls down his pants and starts sucking his cock. She's willing to do anything to keep that job. She swallows his big shaft deep and licks his balls too. Rodney can't help but to bury his face in her big bosoms. She continues her ravenous blow job which results in a huge Rodney blast of cream on a plate. Like a good little employee, she laps it up eagerly. How could Rodney possibly let her go now? - Aurora & Rodney
---
Added September 12 Dawn "Sub Dawn"
BBW sub takes Rodney on a kinky wild ride
complete with a fishnet face fuck rough tit play and
rimming! Of course, this bimbo swallows his spunk!
"Sub Dawn" - Plump and sexy Dawn comes over to look at a couch for sale and Rodney notices that not only are her stockings torn, but her big titties seem to want to burst out of her shirt. Upon closer inspection, he notices she is wearing some S & M gear under her clothes. It turns out she's a sub girl and does anything her Dom says. Rodney likes that idea and soon she's on his leash, having her big butt whipped and taking his hard cock up her snatch. She is soon on her knees doing his Dom bidding eating his asshole. He gets even kinkier covering her face with ripped fishnet stockings to face fuck her. Then he fucks this hot submissive BBW hard and then gives her a huge Rodney Blast right into her dirty mouth and the sub swallows it all! - Dawn & Rodney
---
Added September 5 Honey Wells "Stiff Competition"
Chunky MILF with thick swollen nips offers up her plus-sized
pussy for pounding and gets a thick Rodney Blast to the face in return!
"Stiff Competition" - Honey is a Plus Size model looking for some catalog work and she comes over to Rodney's studio so he can see what she's got. He likes what he sees but tells her that the competition is stiff. Since she really wants the work, she makes Rodney big cock nice and stiff. Then goes down on her knees to show him a good sucking. The next thing you know, they are on the couch and Rodney's dick is deep in her pussy, banging her hard until finally rewarding her with hot goo all over her face. - Honey Wells & Rodney
---
Added August 29 Vanessa Logan "Fellatio Friday"
Chunky goth girl with huge XXXL boobs gives a titty fuck and BJ
at the same time! Her efforts result in an XXXL Rodney Blast!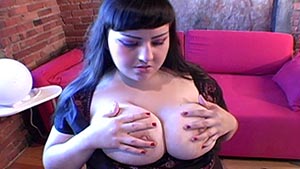 "Fellatio Friday" - Big beautiful babe Vanessa Logan is out on the street looking hot and goth. She asks Rodney for quarter for the meter and Rodney strikes up a conversation with her. She says she is down there meeting her girlfriends for Fellatio Friday. She and her girlfriends suck guys off on Friday for fun and they meet up at this place. Unfortunately she got there too late and now she is missing out on some hot cock. Rodney says he is pretty big and he can fill in if she wants. She is in and they go to his place and she whips out her colossal cantaloupes. Rodney can't believe his luck. It is Friday, he is off work and there is a hot bbw with amazing gargantuan tits in his apartment sucking his blaster and giving him a tit job at the same time. She even sucks his balls. After a rowdy and robust titty fuck and blow job, she wants him to cum all over her cute goth face. He shoots his white goo all over her face making it a gooey mess worthy of Friday Fellatio. - Vanessa Logan & Rodney
---
Added August 22 Vanessa Blake "Suck Up"
Bootilicious Vanessa seduces her college
professor and fucks her way to an F for facial!
"Suck Up" - College Professor Chibbles is grading college papers when extra thick Vanessa walks in. The previous night he saw the very voluptuous Vanessa at her job and she wants him to keep his mouth shut. Curvy Vanessa doesn't want people to know she's a hot stripper so she decides some sucking is the best way to keep her professor quiet. After a bit of sucking, she takes a hard cock in her chunky wet pussy. He grabs her by the love handles and rides her hard till he pops a load all over her pretty face. - Vanessa Blake & Dick Chibbles
---
Added August 15 Mellissa "The Big Fuck"
Cute XL chunky first timer, gets her first on
camera spanking, sucking and fucking.
She even gets a first time ass reaming and
cum swallow with huge Rodney Blast!
"The Big Fuck" - Mellissa is a chunky lady who's looking for some big fun. Rodney is a Chubby enthusiast with a chubby of his own. Watch as Mellissa's horny urges lead her to suck and fuck for the very first time in front of the camera. She strips down and let's Rodney spank her big ass, then she sucks his cock until it's wet and hard. Then Rodney pounds her pussy, shaking that massive frame of hers as they fuck. He tests her tight asshole for a first time reaming. Finally he rewards her hungry mouth with a dollop of goo. - Mellissa & Rodney
---
Added August 8 Sera "Full Figured Fun"
Chunky babe is a porn newbie and gets all she bargained for, striving
for that first on screen fuck and classic Rodney Blast to her pretty face!
"Full Figured Fun" - Rodney is walking through the park when he notices a very pretty chubby chick. After meeting Sera, Rodney learns that she is into erotic videos and uses that interest to have her do her first scene. Once arriving at Rodney's place it takes no time for Sera to end up naked. Not only does she have huge tits but she also is no stranger to giving a blowjob. When Rodney fills Sera's pink wet pussy she giggles with delight and her curvy body shakes with pleasure. Sera is no longer a first timer when she gets her very first huge Rodney Blast. - Sera & Rodney
---
Added August 3 Kamille Amora "Camshow Cream Dream"
Chunky girl with XXXL tits gets X rated with Rodney!
She uses her boobs with her blow job, gets her hairy puss pounded
and gets thick gooey Rodney Blast to her face!
| | |
| --- | --- |
| | |
"Camshow Cream Dream" - Firecracker Kamille Amora loves to fulfill guys' fantasies while she is webcamming. She starts out by bouncing her bodacious breasts and giving soft, wet kisses to the camera. Then, someone in the room notices her hairy pussy, so she spreads wide her lips and gives a sticky close up. She imagines that you are there with her, licking on her sweet clit before delving deep inside her warm hole with your tongue. Next, she pulls out a dildo, pretending its your cock. On her knees before you, you watch her deep throat your dick while you squeeze her huge titties. She sucks on your balls and smacks your dick against her soft, rosy cheeks. But your greatest fantasy is to fuck her. So you lay her down on her back and drill her hole fast and hard, causing her boobs and tummy to shake uncontrollably. Then, you flip her over and fuck her doggy style while she screams with pleasure. You continue to pound this voracious slut in different positions, until you blast out a huge load of gooey, white cum all over her gorgeous face. - Kamille Amora & Rodney